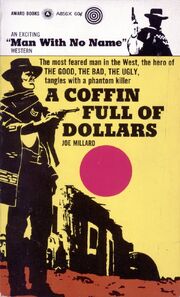 A Coffin Full of Dollars is a 1971 novel by Joe Millard. It is the first of five spin-off novels following the Man with No Name.
Plot
[
]
While bringing in the body of Marvin "No Nose" Megley to the Sheriff of Los Ydros, the Man with No Name witnesses the circus coming into town, a family circus ring-led by pickpocket and gambler Dandy Deevers.
After buying his ticket to the circus, figuring they would need protection, the man spots his old rival Shadrach in the audience. Shadrach, whom the man had only previously known by reputation, had stolen his bounties and left as little as $10 for his assistance. Shadrach and the man vowed to kill each other on sight.
During the show, some outlaws led by "One-Eye" Previs cause trouble and threaten to molest Dandy's wife, Molly, and his daughter Laura. The man kills the outlaws, due to Shadrach being too held back by the audience to help, and is offered a chance to travel with them and perform a shooting act with them.
While in the Deevers' stagecoach, the man learns that the girl he saved was not really Laura, but her twin sister Cora, who performed the illusion of Laura disappearing inside a coffin.
As he travels with them, the man's shooting act is interrupted by the arrival of the bandit Apachito, a sadistic murderer who kills his victims slowly. As Apachito threatens the man, he is chased away by the circus lion, who is toothless and declawed anyway. Shadrach shows up at the circus to try and get his bounty on Apachito, but he and the man are forced to work together when the bandit escapes.
During his tour, the man takes a detour into the town of Hangville, a safe haven for criminals, and witnesses a fight started by the outlaw "Curley" Bick. He investigates more of the town, nearly gets arrested, and escapes. Arriving back at the circus, he learns that Curley had followed him and kills him for the $1,500 bounty.
The man, Shadrach and the Deevers learn from the president of the Bank of Hangville that Apachito is on his way to rob the bank, so they arrange for the money to be evacuated.
They get the money out, but the wagon carrying it breaks, so they think of another way to transport it. They ease the money into the coffin, but Apachito is hot on their heels.
Suddenly a flash flood breaks out. Still thinking the money is in the coffin, the man and Shadrach chase after it, but realize it was a decoy and Dandy got away with the money.